Bronze Star Medal

U.S. Army Individual Decorations
Chapter 3, Army Regulation 600-8-22 (Military Awards)
25 February 1995
3-13.
a. The Bronze Star Medal was established by Executive Order 9419, 4 February 1944 (superseded by Executive Order 11046, 24 August 1962).
b. The Bronze Star Medal is awarded to any person who, while serving in any capacity in or with the Army of the United States after 6 December 1941, distinguished himself or herself by heroic or meritorious achievement or service, not involving participation in aerial flight, in connection with military operations against an armed enemy; or while engaged in military operations involving conflict with an opposing armed force in which the United States is not a belligerent party.
c. Awards may be made for acts of heroism, performed under circumstances described above, which are of lesser degree than required for the award of the Silver Star.

Purple Heart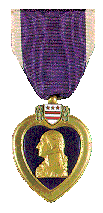 Paragraph 2-8, Army Regulation 600-8-22 (Military Awards)
25 February 1995
The Purple Heart was established by General George Washington at Newburgh, New York, on 7 August 1782, during the Revolutionary War. It was reestablished by the President of the United States per War Department General Orders 3, 1932 and is currently awarded pursuant to Executive Order 11016, 25 April 1962, Executive Order 12464, 23 February 1984 and Public Law 98-525, 19 October 1984.
• a. The Purple Heart is awarded in the name of the President of the United States to any member of an Armed Force or any civilian national of the United States who, while serving under competent authority in any capacity with one of the U.S. Armed Services after 5 April 1917, has been wounded or killed, or who has died or may hereafter die after being wounded-
• (1) In any action against an enemy of the United States.
• (2) In any action with an opposing armed force of a foreign country in which the Armed Forces of the United States are or have been engaged.
• (3) While serving with friendly foreign forces engaged in an armed conflict against an opposing armed force in which the United States is not a belligerent party.
• (4) As a result of an act of any such enemy of opposing armed forces.
• (5) As the result of an act of any hostile foreign force
• (6) After 28 March 1973, as a result of an international terrorist attack against the United States or a foreign nation friendly to the United States, recognized as such an attack by the Secretary of the Army, or jointly by the Secretaries of the separate armed services concerned if persons from more than one service are wounded in the attack.
• (7) After 28 March 1973, as a result of military operations while serving outside the territory of the United States as part of a peacekeeping force.
• b. While clearly an individual decoration, the Purple Heart differs from all other decorations in that an individual is not "recommended" for the decoration; rather he or she is entitled to it upon meeting specific criteria.
• (1) A Purple Heart is authorized for the first wound suffered under conditions indicated above, but for each subsequent award an Oak Leaf Cluster will be awarded to be worn on the medal or ribbon. Not more than one award will be made for more than one wound or injury received at the same instant or from the same missile, force, explosion, or agent.
• (2) A wound is defined as an injury to any part of the body from an outside force or agent sustained under one or more of the conditions listed above. A physical lesion is not required, however, the wound for which the award is made must have required treatment by a medical officer and records of medical treatment for wounds or injuries received in action must have been made a matter of official record.
• (3) When contemplating an award of this decoration, the key issue that commanders must take into consideration is the degree to which the enemy caused the injury. The fact that the proposed recipient was participating in direct or indirect combat operations is a necessary prerequisite, but is not sole justification for award.
• (4) Examples of enemy-related injuries which clearly justify award of the Purple Heart are as follows:
• (a) Injury caused by enemy bullet, shrapnel, or other projectile created by enemy action.
• (b) Injury caused by enemy placed mine or trap.
• (c) Injury caused by enemy released chemical, biological, or nuclear agent.
• (d) Injury caused by vehicle or aircraft accident resulting from enemy fire.
• (e) Concussion injuries caused as a result of enemy generated explosions.