Published on April 11, 2006
Stephen Martel
Funeral services will be held at 11:30 a.m. Wednesday, April 12, 2006, at Holy Ghost Catholic Church in Opelousas, for Stephen "Steve" Martel, 57, who died at 10:40 a.m., Saturday, April 8, 2006 at University Medical Center of Lafayette.

Interment will be in St. Landry Cemetery in Opelousas.

Rev. Gus Wall, pastor will officiate at the services.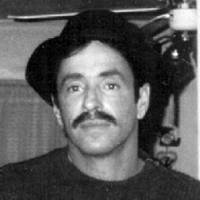 Stephen Anthony Martel was one of four children (second) born to Paul and Mary Martel on July 21, 1948 in Opelousas, Louisiana.

Stephen enjoyed his childhood in Opelousas along with his brothers and sister. Music filled their home but Stephen's enchanting voice raised above all his siblings. He graduated from Holy Ghost Catholic School. He served his country from 1966-1969 in the United States Army.

After getting out of the Army, he attended T. H. Harris Trade School. He worked at the Opelousas Water Plant for a time and later as a letter carrier with the US Postal Service. He was well liked and enjoyed meeting people along his route. His illness forced him into an early retirement. After retiring, he spent his time cooking, reading and enjoying his family and friends. He loved his family deeply and he will be missed very much.

Survivors include: his mother, Mary B. Martel of Opelousas; two daughters, Kimberly Martel of Lafayette, and Kristina Martel of Opelousas; one grandchild, Jeromey Guillory, Jr; two brothers, Paul Martel, Jr., and his wife, Irma and Darrel Martel and his wife, Gloria; one sister, Connie Martel Broussard and her husband, Keith all of Opelousas.

Stephen was preceded in death by his father, Paul C. Martel, Sr.

Visiting hours will be observed from 7 a.m. to 11:15 a.m. Wednesday, at Williams Funeral Home in Opelousas.

Rosary will be recited at 9 a.m., Wednesday, April 12, 2006.

Williams Funeral Home of Opelousas, 942-2037, is in charge of arrangements.